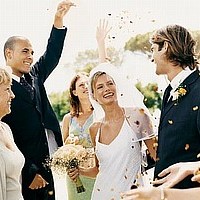 Now booking 2025
( A limited amount of 2024 dates still available, please call)
330-242-0964
Hello and welcome to our website! If you are recently engaged and looking for a Great Cleveland DJ, band or #Cleveland Entertainer, I

would like to offer you my sincere congratulations and ask you to consider my company when making your choice. Our reliable and fun wedding djs and entertainers are good at what they do!
Here is what Katarina Z, Rosemary Shah, and Laura Fleeson had to say:
"R.J. Goody is an excellent Cleveland DJ! We loved having him at our wedding, and we heard a lot of compliments from our guests about him. R.J.'s services were very affordable and worth every penny. He's a very talented entertainer." Katerina Z Canton Ohio
"Cleveland DJ, RJ Goody was the best! He played all of our requests and MC'd our reception flawlessy." Rosemary Shah (Mrinal Shah & Jason Knauff)
Marriott Key Center"The dance floor was packed all night long! Thank you for helping to make our wedding an unforgettable occasion!" Laura Fleeson
Or perhaps you've been given the task of hiring entertainment or a disc jockey for your corporate event, graduation party, or high school prom in the Cleveland area. You should definitely speak with us. Let us discuss with you the many unique ways we offer to entertain your guests.
Both these clients chose Music AND Magic.
Three Top Questions Answered:
Q. What is unique about your Cleveland Disc jockey service?
A. Oh my!!! We do things so different from the others!!! We're going to pamper you, advise you, listen to you, and guide you to a truely special evening. Please call us for a private consultation about this most important day in your life. We'll explain just how different we are. We've listed some of the reasons on our page "The Difference" but we're keeping our biggest differences a secret just for you when you call.

Q. How about bands and other entertainers?
Doesn't it cost me more to hire them through you?
A. Absolutely not! The entertainers I use are some of the best in the business. They pay my fee which is one of the lowest in the industy, not you. In many cases, I get a better price from them because through me, they keep more of what they earn. Most of these professionals only book through an agent. I treat my talent pool with great respect and they love it when we book them.
Q. Do you have good references?
A. Not just good but GREAT!! We listed a few on another page.
Folks, if you would like a Full TIme professional Cleveland DJ or Cleveland Entertainer, please give us a Call. I have been in the Cleveland area for more than 50 years. I have also been a Cleveland DJ since 1989. Our Cleveland Entertainers are top of the line. We are all seasoned and professional and when you use us there are "no worries". Thank you so much for your consideration. We would love to be your Cleveland DJ or entertainer. Rick (RJ)
330-242-0964
Life's short , Let's celebrate!!!
Ask about our veteran and senior Discounts.